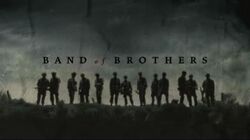 Band of Brothers is a ten-part, 11-hour television World War II miniseries, originally produced and broadcast in 2001, based on historian Stephen E. Ambrose's 1992 book of the same title.
The executive producers were Steven Spielberg and Tom Hanks, who had collaborated on the 1998 World War II film Saving Private Ryan.[1] The episodes first aired in 2001 on HBO. They still run frequently on various TV networks around the world
Band of Brothers is a dramatized account of "Easy Company" (part of the 2nd Battalion, 506th Parachute Infantry Regiment), assigned to the United States Army's 101st Airborne Division during World War II. Over the course of ten episodes, the series details the company's exploits during the war.
Starting with jump training at Camp Toccoa, Georgia, Band of Brothers follows the unit through the American airborne landings in Normandy, Operation Market Garden, the Siege of Bastogne, and on to the war's end. It includes the U.S. taking of the Eagle's Nest in Germany and refers to the surrender of Japan. Major Richard Winters (1918–2011) is the central character featured, shown working to accomplish the missions and keep his men together and safe. While the series features a large ensemble cast, each episode generally focuses on a single character, following his actions during certain events (for example, the Siege of Bastogne or Operation Market Garden).[1]
As the series is based on historic events, the fates of the characters conform to the persons they are drawn from. Numerous characters die or sustain serious wounds, some of which lead to survivors' being sent home; in other cases, soldiers recover under treatment in hospital and can rejoin their comrades on the front lines. Their experiences and the moral, mental, and physical hurdles they must overcome are central to the story.