Boardwalk Empire
is an American television series from cable network HBO, set in Atlantic City, New Jersey, during the Prohibition era. It stars Steve Buscemi as Nucky Thompson. The show was adapted by Emmy Award-winning screenwriter and producer Terence Winter (of The Sopranos) from a book about historical criminal kingpin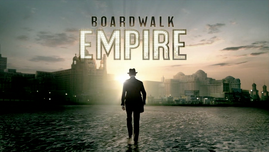 Enoch L. Johnson by Nelson Johnson, titled Boardwalk Empire: The Birth, High Times, and Corruption of Atlantic City.
The first episode, directed by Martin Scorsese, cost $18 million. On September 1, 2009, HBO picked up the series for an additional 11 episodes. It premiered on September 19, 2010, and has completed its second season. On October 12, 2011 it was announced that the series has been renewed for a third season. On July 9, 2012 HBO was announced that season 3 would Premiere on September 16, 2012.
Boardwalk Empire has received widespread critical acclaim, particularly for its visual style and basis on historical figures, as well as for Buscemi's lead performance. The series was nominated for 18 Emmy Awards in its first season; winning eight, including Outstanding Directing for Martin Scorsese. The series has been nominated for 30 Emmys in total through 2 seasons.
Series overview
Edit
Boardwalk Empire is a period drama focusing on Enoch "Nucky" Thompson (based on the historical Enoch L. Johnson), a political figure who rose to prominence and controlled Atlantic City, New Jersey, during the Prohibition period of the 1920s and 1930s. Nucky interacts with several historical figures in both his personal and political life, including mobsters, politicians, government agents, and the common folk who look up to him. The federal government also takes an interest in the bootlegging and other illegal activities in the area, sending agents to investigate possible mob connections but also looking at Nucky's lifestyle—expensive and lavish for a county political figure.
Episodes
Edit
Cast and characters
Edit