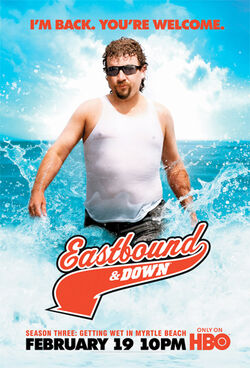 Eastbound & Down is an American comedy television series broadcast on HBO, starring Danny McBride as Kenny Powers, a former professional baseball pitcher, who after an up and down career in the major leagues is forced to return to his hometown middle-school in Shelby, North Carolina, as a substitute physical education teacher.
Years after he turned his back on his hometown, a burned-out major league ballplayer who "forced himself into retirement by the depths of his own jerkiness"[9] returns to teach physical education at his old middle school. Still trying to reclaim his fame he starts on a comeback -- righting his previous wrongs along the way -- only to unwittingly sabotage his own efforts.
Ad blocker interference detected!
Wikia is a free-to-use site that makes money from advertising. We have a modified experience for viewers using ad blockers

Wikia is not accessible if you've made further modifications. Remove the custom ad blocker rule(s) and the page will load as expected.