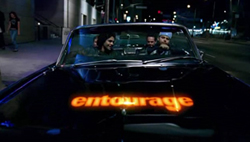 Entourage is an American comedy-drama television series that premiered on HBO on July 18, 2004 and concluded on September 11, 2011, after eight seasons. The series was created and largely written by Doug Ellin and chronicles the acting career of Vincent Chase, a young A-list movie star, and his childhood friends from Queens, New York City, as they navigate the unfamiliar terrain of Los Angeles, California.
Vince Chase is a sexy young actor whose career is on the rise. To share the fun of his ride to the top of Hollywood and keep him grounded, Vince looks to Eric, Drama and Turtle, his childhood buddies from Queens. Together, they'll navigate the highs and lows of Hollywood's fast lane.
Ad blocker interference detected!
Wikia is a free-to-use site that makes money from advertising. We have a modified experience for viewers using ad blockers

Wikia is not accessible if you've made further modifications. Remove the custom ad blocker rule(s) and the page will load as expected.