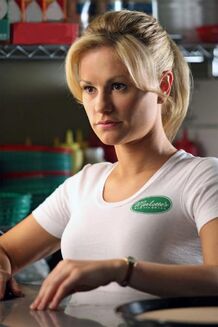 First appeared
{{{first}}}
This page is incomplete! As a user of Wikia, please feel free to edit and expand this page by adding the information it needs.

Sookie Stackhouse is a fictional character and protagonist of The Southern Vampire Mysteries book series, written by Charlaine Harris. In HBO's television adaptation, True Blood, Sookie is portrayed by Anna Paquin.
Creation and casting
Edit
Sookie was created by Charlaine Harris. Harris stated that she decided to "shake up [her] writing style by trying something new". The author said that to do this she would include "all the elements I loved: mystery, the supernatural, bloody adventure, and a dash of romance. And since people had told me for years that I had a great sense of humor, I thought it would be interesting to try to include that in the book, too". Harris went on to establish the protagonist of the series. When naming the character Harris decided to use her grandmother's best friend's name because "it was a fine old Southern nickname, I thought it would do well for my heroine. And "Stackhouse" just flowed right after it".[1] Harris wanted to "write from the point of view of a human". To make Sookie more interesting as Harris would have "to live with Sookie" while writing she decided to have the character partake on a relationship with a vampire as an introduction to a foreign world. Sookie's creator then decided she would have to establish a reason "sensible Sookie" would "do such a crazy thing" which led to her giving Sookie the power of telepathy. In an interview Harris stated that making Sookie telepathic is "the worst thing I could think of to do to anybody". She explained this further saying it "it would just be absolutely horrible to know what people really thought about you". Harris felt that there are "definitely elements of Sookie in me—or, more correctly, there are elements of me in her. [...] I wish I were as brave as she is!" Harris said that when writing for Sookie it is "second nature to me to step into Sookie's skin".
Anna Paquin was cast in the HBO television adaptation True Blood, with her casting being announced on 26 February 2007. In September 2011 Harris said that although some characters in the series were portrayed correctly in the television adaptation Sookie is not, saying: "Anna [Paquin] has never been the way I think of as Sookie. I think she does a great job, but she's just not my Sookie".
Appearances
Edit
Literature
Edit
Dead Until Dark
Edit
Living Dead in Dallas
Edit
Club Dead
Edit
Dead to the World
Edit
Dead as a Doornail
Edit
Definitely Dead
Edit
All Together Dead
Edit
From Dead to Worse
Edit
Dead and Gone
Edit
Dead in the Family
Edit
Dead Reckoning
Edit
Dead Locked
Edit
Season one
Edit
Season two
Edit
Season three
Edit
Season four
Edit
Season five
Edit
External links
Edit