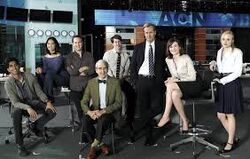 The Newsroom is an American drama television series created and primarily written by Aaron Sorkin that premiered on HBO on June 24, 2012. The series chronicles the behind-the-scenes events at the fictional Atlantis Cable News (ACN) channel.
It features an ensemble cast including Jeff Daniels as anchor Will McAvoy, who, together with his staff set out to put on a news show "in the face of corporate and commercial obstacles and their own personal entanglements." Other cast members include Emily Mortimer, John Gallagher, Jr., Alison Pill, Thomas Sadoski, Dev Patel, Olivia Munn, and Sam Waterston.
Sorkin, who created the Emmy Award–winning political drama The West Wing, was reportedly developing a cable-news-centered TV drama since 2009. After months of negotiations, premium cable network HBO ordered a pilot in January 2011 and then a full series in September that year. Sorkin did his research for the series by observing several real-world cable news programs firsthand. He serves as executive producer, along with Scott Rudin and Alan Poul.
The Newsroom has been renewed for a second season.
Series overview
Edit
The series is set behind the scenes at the fictional Atlantis Cable News (ACN) and centers around anchor Will McAvoy (Jeff Daniels), his new executive producer MacKenzie McHale (Emily Mortimer), newsroom staff Jim (John Gallagher, Jr.), Maggie (Alison Pill), Sloan (Olivia Munn), Neal (Dev Patel), Don (Thomas Sadoski), and their boss Charlie Skinner (Sam Waterston).
Cast and characters
Edit
Main cast Jeff Daniels as Will McAvoy: the anchor and managing editor of News Night.[5][6] Will is a moderate Republican whose success is largely the result of never offending anyone. He presents a gruff exterior when he is off camera. His world is turned upside down when MacKenzie re-enters his life. In the pilot, he is forced to contend with a new team after his executive producer lands a new program and takes most of his staff with him.[7] Emily Mortimer as MacKenzie McHale: News Night's new executive producer and Will's ex-girlfriend.[5] John Gallagher, Jr. as James "Jim" Harper: a producer who was offered another job when MacKenzie's previous show was canceled but turned it down to follow her to News Night. At his new job, he develops feelings for Maggie.[8] Alison Pill as Margaret "Maggie" Jordan: associate producer of News Night.[9] Thomas Sadoski as Don Keefer: News Night's former executive producer who leaves for the new program on the network.[7] Dev Patel as Neal Sampat: writer of Will's blog and news scanner of the Internet who covered the London Underground bombings with a camera phone. Olivia Munn as Sloan Sabbith: a financial analyst with a show on the network.[7] Sam Waterston as Charlie Skinner: ACN news division president.[10] [edit]Recurring cast Jane Fonda as Leona Lansing: CEO of Atlantis World Media (AWM), the parent company of ACN.[4] Chris Messina as Reese Lansing: president of ACN, and Leona's son.